compress
Introducing "Compress" range of safe, modern compacting and bagging machines.
The Compress compacting and bagging unit is a highly efficient, manually operated and electrically driven machine which enables one person to safely bag a wide range of compressible materials.
Product Information:
Compress was designed as a compact and highly efficient manually operated, electrically driven machine which will enable one person to bag a wide range of compressible materials. For example insulation batts. Unlike many previous compacting machines which relied on long stroke, air operated pneumatic cylinders, Compress relies on strong, mechanical lever pairs to efficiently press materials into bags.
Compress comes with sturdy, lockable castors enabling the unit to be easily moved around the factory floor. The two sets of extending arms have lubricatable bronze bearings and polyethylene plates attached to ensure smooth easy movement. Compress is extremely quiet to operate due to its smooth electrical drives.
Safety was a major consideration when designing Compress and we have incorporated a fail safe control unit which conforms to an AES Safety category of Level 3. The control circuit of the system provides triple redundancy, with three relays in series for added safety. Coded magnetic reed switches guard the sliding feed gate. Linear bearings allow an easy opening and closing of the gate and it has a transparent lid to allow easy viewing of operation.
Compress incorporates the latest electrical inverter and PLC technology enabling easy use and minimal fuss. Motor drives are strong quality units providing essential reliability and performance.
The combination of careful design, quality construction and modern technology makes Compress and ideal packing solution.
Specifications: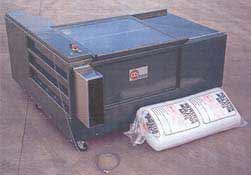 Simple & easy control layout
Width: 2.6m
Length: 2.4m
Weight: 640kg
Electrical: 2.5 kW 3 phase or single phase 240V Electric
Capacity: Loaded trough 1300 x 1300 x 610 or to customer requirements.
Did You Know
CTS Group was established over 43 years ago by the Cooper Family in order to supply and service quality textile machinery. It is currently managed by Jason Cooper and has over 100 years of technical knowledge in its senior management team alone. More