jumbo roll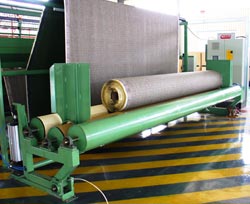 Introducing "Jumbo-Roll" large capacity roll-up machines.
For use at the back of tufting machines. Capable of rolling up length of carpets in excess of 300 metres.
Product Information:
Pneumatic lifting cylinders
Rubber adhesive roller covering
High efficiency motors
Flanged end plates for prevention of telescoping of roll.
High power 53:1 gear boxes
Roll up speeds from 20 metres per minute.
Painted to customers requirements.
download the brochure
Did You Know
CTS Group was established over 43 years ago by the Cooper Family in order to supply and service quality textile machinery. It is currently managed by Jason Cooper and has over 100 years of technical knowledge in its senior management team alone. More