synthetic grass (PU and Latex)
Synthetic grass has developed rapidly over recent years and has spread across the world for many different applications. Synthetic grass also known as artificial turf or lawn is now very popular in many end products from roof top gardens, company grounds, cafes, landscaping and as well as the traditional sports like, cricket, hockey, Gridiron (American football) and football.
Due to the ever changing climate conditions and the regulations and expense in maintaining natural grass, synthetic grass has become a true better alternative. The synthetic grass is resistant to all types of weather and the most extreme of temperatures, has low maintenance which saves on cost and effort is non allergenic, permeable to water and UV resistant.
Advances in yarn technology and correct manufacture and installation has lifted the image of synthetic grass from a cheap product to one of high quality and flexibility.
Consequently the manufacturing process has had to change with the times and larger more sophisticated finishing lines have been created.
CTS offer the complete range of finishing equipment for synthetic grass from simple pure infra red heating lines with low capacity to the state of the art facilities for multiple compound types such as SBR latex and PU made on composite lines which are combining the best of infra red and oven heating technologies.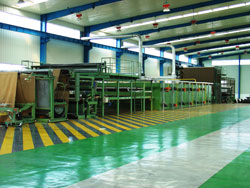 Did You Know
CTS Group was established over 43 years ago by the Cooper Family in order to supply and service quality textile machinery. It is currently managed by Jason Cooper and has over 100 years of technical knowledge in its senior management team alone. More