carpet tiles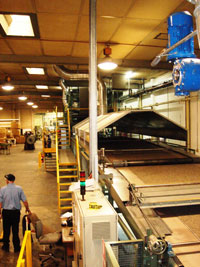 Carpet tiles are a specialized field within the carpet manufacturing area, which currently is experiencing a buoyant market with strong and successful growth worldwide.
Due to the new modern and sophiticated styles and marketing towards the top end of the market carpet tiles have found a new lease in life and greater overall acceptance in many applications compared to those of yesteryear.
Because of their differentiation in technical criteria for wall to wall carpet, dedicated specialized machinery is required for their production. CTS has many years manufacturing experience in dedicated carpet tile machinery covering all aspects from compounding equipment, tufting, pre-coating lines, PVC & PU coating lines and cutting machines.
After years of development and consultation with our customers CTS has created a highly energy efficient and simple line to operate, but with all the modern sophistications available. Utilizing high-tec electronics in combination with the highest quality materials we have produced a range of lines from simple 3 linear meters per minute to the high capacity 15 linear meters per minute with a 2 meter finished working width.
Experience has shown that although some manufacturers have managed without a dedicated pre-coat line the finished tiles are more susceptible to problems during manufacturing and or installation. So we would highly recommend a combination of a CTS pre-coat line prior to the CTS PVC tile line.
CTS can supply off line and online cutting depending on the customer's requirements. We can also intergrate conveying systems to feed the cutting unit and remove the tiles separately from the cut waste, flip the tiles and allow for inspection and easy packing.
CTS have consultants available to work with our customers on start up of new operations to ease the transition from commissioning of the line to making quality production.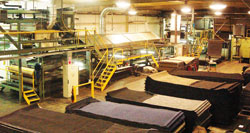 Did You Know
CTS Group was established over 43 years ago by the Cooper Family in order to supply and service quality textile machinery. It is currently managed by Jason Cooper and has over 100 years of technical knowledge in its senior management team alone. More